New BOINC installer includes VirtualBox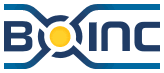 19 Nov 2013 Berkeley -
Starting with version 7.2.28, the recommended BOINC installer for Windows also installs VirtualBox, open-source virtualization software. This allows volunteered computer to run VM applications, benefitting both scientists and volunteers.
BOINC uses virtualization to allow scientists to develop applications on their preferred operating system - usually Linux - and then run them on volunteered Windows and Mac computers. The BOINC users call these VM apps.
BOINC's virtualization support uses a system called VirtualBox, which is open-source software maintained and distributed by Oracle.
The use of virtualization in BOINC provides several advantages:
It makes it easier for scientists to develop applications for BOINC, since they no longer have to build and maintain versions of their programmes for Windows and Mac.
It provides increased security for volunteers. Virtual machines provide a very strong security barrier; a programme running in a virtual machine has no access to the files on the "host" operating system.
VM apps are automatically "restartable". The contents of the VM are written to disk every few minutes, and if your computer is turned off for a while, the application can restart close to where it left off.
You can also install VirtualBox separately. For more information about VirtualBox, you can visit the web site at
https://www.virtualbox.org/