Ace Computers to exhibit custom HPCs and supercomputers for the Oil and Gas industry at SEG Expo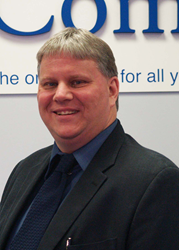 John Samborski, CEO of custom supercomputer builder Ace Computers
15 Oct 2015 Chicago -
Ace Computers, one of the oil and gas industry supercomputer builders and custom HPC specialists in the U.S., will be exhibiting at the exclusive Society of Exploration Geophysicists - SEG - International Exposition and 85th Annual Meeting, October 18-23 at the Ernest N. Morial Convention Center in New Orleans. More than 8,500 oil and gas industry professionals from 70 countries are expected.
Ace Computers' CEO John Samborski stated: "We have been building supercomputers for some of the largest research institutions in the U.S. for more than 30 years. At SEG, we will be joining many of our partners, such as Intel and Supermicro, that have deep experience in the oil and gas space. They can attest to the quality, ease of deployment, and cost effectiveness of our supercomputer solutions across all exploration-related industries."
Ace Computers understands the objective of generating efficient, accurate, and actionable information during the exploration process. To that end, their supercomputers can aggregate, process, and interpret enormous volumes of data from sources that include surveys, simulations, and geological archives.
The trend toward exploring for oil and gas in potentially rewarding, but complex, frontiers is driving the need for greater supercomputing power in the oil and gas industry. These obscure locations, which can be 10s of 1,000s of feet below ground or above ground in mountainous regions, are beyond the reach of traditional acoustic wave methodologies that have been used to map oil and gas in the past. This creates an imperative to develop and employ increasingly sophisticated predictive algorithms that will narrow down locations statistically. In fact, experts say that without the computational power of supercomputers, exploration and discovery of many recently developed fields would not have been possible.
Supercomputing capabilities and their advantages are poised to become the next disruptive technology in oil and gas exploration. Ace Computers' clusters for this sector incorporate the fast network and vast memory and storage capabilities organizations need to maintain a competitive edge.
"Oil and gas companies are searching for technology partnerships that allow them to achieve their goals", John Samborski stated. "Systems that meet the performance requirements of the world's largest and most complex exploration situations must be built from the ground up by a custom technology builder with HPC experience. With more than 3 decades of building supercomputers, we are uniquely positioned to accomplish that."