Take a tour of high performance computing with "Optimizing HPC Applications with Intel Cluster Tools"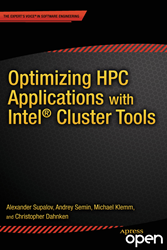 22 Oct 2014 New York -
High performance computing (HPC) - also known as supercomputing - involves solving complex problems across a range of disciplines in business and science using sophisticated supercomputers. This fast-growing sector is in need of more resources for the application scientists who are not experts in code optimization but aim to maximize the performance of their HPC applications. Intel has aimed to fill that gap with its suite of Cluster Tools designed to develop, analyze, and optimize performance of parallel applications on Linux or Windows clusters. Intel has teamed up with Apress to publish "Optimizing HPC Applications with Intel Cluster Tools": a guide for designing, developing, and optimizing parallel programmes on Intel platforms.
The book was written by Intel's Alexander Supalov with support from Andrey Semin, Michael Klemm, and Christopher Dahnken. Alexander Supalov, PhD, is Cluster Tools Architect and a Senior Staff Engineer, responsible for setting the direction of the Intel Cluster Studio XE and its components. The newest title in the ApressOpen series, "Optimizing HPC Applications with Intel Cluster Tools" takes the reader on a tour of the burgeoning field of high performance computing and the optimization of hybrid programmes. These programmes typically combine distributed memory and shared memory programming models and use the Message Passing Interface (MPI) and OpenMP for multi-threading to achieve the ultimate goal of high performance at low power consumption on enterprise-class workstations and compute clusters.
The book focuses on optimization for clusters consisting of the Intel Xeon processor, but the optimization methodologies also apply to the Intel Xeon Phi coprocessor and heterogeneous clusters mixing both architectures. Besides the tutorial and reference content, the authors address and refute many myths and misconceptions surrounding the topic. The text is augmented and enriched by descriptions of real-life examples.
As part of the open access publishing partnership between Apress and Intel, the eBook version of "Optimizing HPC Applications with Intel Cluster Tools" is freely available to download and share under the ApressOpen programme. For more information and to download the eBook, you can visit
http://www.apress.com/9781430264965
.