Nor-Tech pioneers low-cost supercomputer solution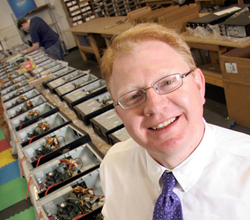 David Bollig, President and CEO of Nor-Tech
22 Sep 2015 Minneapolis -
Nor-Tech (Northern Computer Technologies), a provider of HPCs for CAE and related applications, recently engineered a low-cost supercomputer configuration that reduces the HPC purchase cost by 2/3 to 3/4 - about $20,000 less for an 8 GPU server. The solution is a good fit for nearly all, but not all organisations.
For over a decade, the technology community has been aware that consumer grade GPUs perform as well, and in some cases better than commercial grade GPUs at a price that is anywhere from 2/3 to 3/4 less. The main sticking point has been the traditional supercomputer chassis configuration, which only accommodates the significantly more expensive commercial grade GPUs. This puts GPU supercomputers out of the price range of most organisations - including some research institutions that need extraordinary processing power, but have budget constraints.
Nor-Tech worked with top sheet metal engineers that had experience with computer cases to redesign the traditional supercomputer chassis so that they can accommodate consumer-grade GPUs. Then Nor-Tech engineers solved engineering complexities. One of the biggest beneficiaries of this technology was the University of Wisconsin's IceCube Neutrino Observatory - the world's largest neutrino detector. This project requires an enormous amount of data collection, processing, and storage capacity.
Nor-Tech's Vice President of Engineering, Dom Daninger and his team tested and retested the prototype until they were satisfied that their solution would be successful for most applications. "We figured out a way to get consumer-grade cards into a 4U chassis", he stated. "The result is a niche product that allows nearly all organisations to take advantage of GPU supercomputing capabilities - in essence supercomputing capabilities at an unheard of price point."
Nor-Tech President and CEO David Bollig stated: "One of our biggest assets is our experienced and intelligent engineering staff. They have always been driven to look outside the box for solutions. Most technology providers understand the issue, but no one else in the industry that I am aware of was willing or able to take on this challenge."
While this is an excellent solution for most organisations, it's not for everyone. The only compromise in performance is occasional bit error. Good candidates are organizations that need supercomputing capabilities for trending and averaging - not organisations that require ECC memory or double precision math.
"For applications such as the University of Wisconsin's IceCube Project, which requires supercomputing power for trending, an occasional error won't significantly affect the results", Dom Daninger stated. "While this solution does give up a minute amount of precision and error protection, there is no other compromise in performance."
Computing Facilities Manager, for the University of Wisconsin Gonzalo Merino, stated: "The highlight of our relationship with Nor-Tech has been their ability to accommodate our increasing GPU needs in an efficient and sustainable way. This solution provides us with an enormous amount of computing capacity for the budget that we have. We have not had any performance issues at all." Over the course of the project, the University of Wisconsin has saved close to $400,000 with Nor-Tech's solution.