HPC specialist transtec will receive 7-million-euro contract from the Karlsruhe Institute of Technology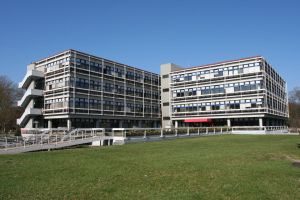 Steinbuch Centre for Computing (SCC) at KIT (Foto: David Bühn)
6 Aug 2015 Reutlingen -
The Karlsruhe Institute of Technology (KIT) is building an HPC cluster with more than 1,100 compute nodes in the framework of the research supercomputer (ForHLR) by the end of 2015. The solution with a total volume of 6.9 million euro is provided by the HPC specialist transtec. It is the largest single order in its company history.
The Karlsruhe Institute of Technology (KIT) is a Technical University in the State of Baden-Wuerttemberg and national research centre of the Helmholtz Association. The Institute conducts basic and applied research, among others in areas such as materials science, environment, energy or nanotechnology. Due to the numerous computationally intensive data analysis and complex simulations, which are necessary in this environment, KIT decided to build an HPC cluster solution in its data centre.
As solution and integration partner, KIT has selected transtec AG from Reutlingen. transtec was able to successfully compete against well-known and internationally active competitors in the EU-wide tendering procedure ForHLR Phase 2 (TED 2014/S 162-290100). The decisive factor was that transtec, together with its technology partner Lenovo, was able to offer an integrated solution that provides a very high performance, especially an extremely high energy efficiency. In the long run, the total cost of ownership for the solution can be kept low in this way.
In the framework of this HPC project that will run to the end of 2015, transtec will implement the high-performance computer system ForHLR2 at KIT and take it into operation. It is based on Next Scale systems from Lenovo and combines the latest technology with high reliability and energy efficiency. In the solution Next Scale systems will come with direct hot water cooling in order to efficiently cool all of the system components such as processors, memory or I/O cards. These systems offer a 40 percent higher energy efficiency and approximately 10 percent more power than solutions based on air cooling. Another advantage is that a large part of the waste heat can also be used for other tasks, for example for the heating of buildings.
"With a peak performance in the petaflop range, and at a low power consumption of no more than 420 kW, our solution belongs to the fastest and most energy-efficient HPC clusters is the world", explained Robin Kienecker, Sales Manager Technical Computing at transtec AG in Reutlingen.
"We are very pleased to be able to carry out this large HPC project, which combines innovative concepts with technical performance, at one of the most prestigious research centres in Europe", added Dr. Oliver Tennert, Director of HPC Solutions at transtec AG.
Hans-Jürgen Bahde, CEO of transtec AG, concluded: "With a net order volume of around seven million euro this is for transtec the largest order in its 35-year history and further evidence of our expertise and our performance in the HPC market. In addition, we have also considerably come closer to our goal of becoming the largest European industry-independent HPC player."