Fujitsu receives order for new supercomputer system from Canon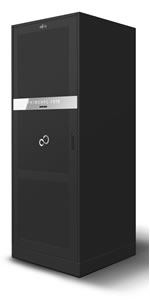 6 Aug 2013 Tokyo -
Fujitsu has received an order for a new supercomputer system from Canon Inc. The system will be a 96-node configuration of the Fujitsu Supercomputer PRIMEHPC FX10, and will have a theoretical peak performance of 20.2 teraflops. The system will contribute to more sophisticated analytical simulations in Canon's product development processes. The system is expected to begin operations in October 2013.
Canon has been utilizing HPC for virtual prototyping and various analytical simulations in its product development activities. However, as products are becoming increasingly sophisticated while getting progressively smaller, the company began to consider deploying a more sophisticated supercomputer system that would enable it to perform complex, large-scale analytical calculations.
Canon selected the PRIMEHPC FX10 as its new supercomputer system for its combination of high performance, low power consumption, and high reliability.
The PRIMEHPC FX10 is a supercomputer with superior scalability, reliability, and energy-saving features that represent further improvements in the Fujitsu technologies employed in the K computer. The new system will be a 96-node configuration of the PRIMEHPC FX10, and have a theoretical peak performance of 20.2 teraflops. In addition, Fujitsu will deliver a high-capacity, highly reliable, high-performance storage environment by using a Fujitsu Storage ETERNUS disk array and Fujitsu Exabyte File System (FEFS) software. Fujitsu will also provide Canon with LS-DYNA non-linear dynamic structural analysis software.
With the new system, Canon will now be able to perform complex, large-scale simulations, which had previously been difficult to perform due to the processing resources required, thereby enabling the achievement of Canon's goal of "prototype-free" product development.
Through the provision of its PRIMEHPC FX10 and other technical computing solutions, Fujitsu seeks to help customers reduce their product development timeframes and costs while contributing to improvements in the performance, features, and quality of their products.