IBM, Astron and the University of Groningen launch exascale computing centre to address Big Data challenges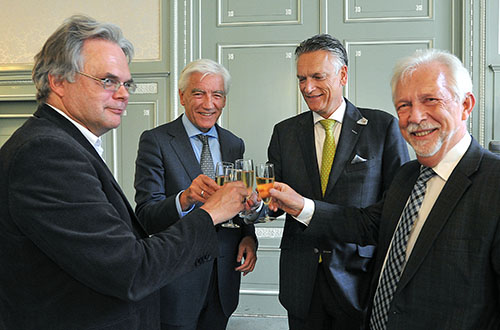 Elmer Spaargaren
27 Jun 2014 Groningen -
IBM, Astron, the Netherlands Institute for Radio Astronomy, and the University of Groningen (UoG) have announced a new collaboration to address some of the greatest societal challenges facing the Netherlands today including energy, health care and water management. IBM scientists break Big Data into four dimensions: volume, variety, velocity and veracity and by 2020 these so-called Four V's of Big Data will be responsible for 40 zettabytes (40 trillion gigabytes) of data. The ability to analyze this data quickly and efficiently will enable organisations to solve some of the most pressing societal and business challenges of today. An exascale computer has the equivalent processing power of several millions of today's fastest computers - critical for processing enormous volumes of data.
Recognizing the opportunities Big Data presents, IBM, Astron and the University of Groningen will establish the European Research Center for Exascale Technology (ERCET) in the northern part of the Netherlands. The King's Commissioner for the province of Groningen, Max van den Berg, who attended the signing stated: "With the signing of the agreement, ERCET has formally laid a foundation to give a strong boost to the northern Dutch economy in the field of Big Data."
"With ERCET, the northern Netherlands will take a leading role both nationally and internationally, to rightfully earn itself the title of Data Industry Valley", stated Marco de Vos, managing director of Astron. "We view this as an extension of our own collaboration with IBM in terms of both the use of the technology, but just as importantly, how the knowledge is developed and shared."
Based on the early successes of projects DOME - a collaboration between IBM and Astron, focusing on astronomy and Big Data - and TARGET of UoG, Astron, University Medical Center Groningen, IBM and other partners, scientists from UoG, IBM and Astron will collaborate on a series of Big Data project proposals that are expected to impact Dutch society and citizens around the world over the next several decades, including:
Energy: the Netherlands is being encouraged to use more renewable energy, while also becoming a major energy hub for pooling reserves to meet spikes in demand. Based on its experience in Denmark and Switzerland, IBM scientists will use advanced analytics to help balance the energy grid in the Netherlands with renewable sources. At the other end of the spectrum, professors and students at the University of Groningen will also research new materials and conduct simulations to store energy more efficiently and develop new nanotechnologies to design more energy efficient and faster high performance computers.
Health care: large medical databases like the Groningen-based multidimensional population study LifeLines, monitoring over 165,000 people's health over a 30 year period, enable medical research. As the amount of medical data grows, there will be an increased demand for securely storing and sharing those data across hospitals. Here, ERCET scientists will work with the eight Dutch University Medical Centers to build a secure and privacy enhanced Cloud based on IBM's 15 years of experience in anonymous credential technology for both the fast and easy sharing of medical records.
Water management: 55 percent of the Dutch population is located in areas prone to large-scale flooding. Researchers at ERCET are expected to develop cognitive algorithms to simulate rainfall and its impact on dykes and the coastline to prevent major flooding.
"I am pleased with the public private agreement signed by IBM, Astron and the University of Groningen", stated Ard van der Tuuk, Regional Minister in the province of Drenthe. "I view ERCET as an extension of the DOME project, which is already based in north. This is a chance to expand the project and safeguard knowledge valorisation and employment for this region on a long-term basis."
Jan de Jeu, vice president of the University of Groningen, stated: "With ERCET, international top research into systems, materials and methods for processing large amounts of data faster, more energy efficiently and above all more intelligently, is linked to the northern innovation agenda. This link will further strengthen the innovative power of data industry in the northern Netherlands over the next years."
"The interesting aspect of Big Data is that when you solve the challenges for one industry the same solution can be replicated elsewhere", stated Ton Engbersen, project leader, IBM Research. "The machine learning and cognitive algorithms we are developing to analyze the data from deep space are just as important for predicting flooding and forecasting energy demand."
Several companies and research institutes from across the northern Dutch axis of Groningen-Assen will also join ERCET in the coming months, benefiting from a unique shared knowledge platform. Groningen-Assen was selected for ERCET due to its already strong base in the northern region with research institutes and IT. Officials hope that in addition to world-class research ERCET will create a strong industrial research stream, accelerating the application of new insights and technologies to new products and processes.