SDSC's Industry Partners Programme announces Technology Forum roundtables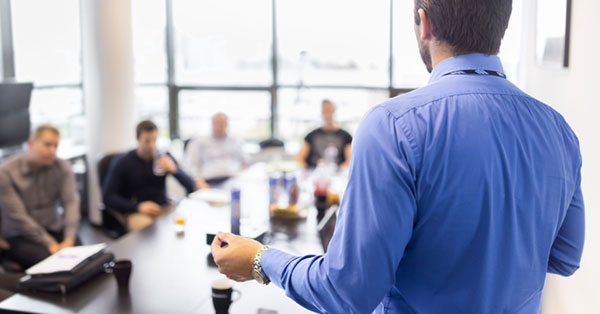 8 May 2018 San Diego -
Beginning this month, the San Diego Supercomputer Center's Industry Partners Programme will offer a new series of activities aimed at fostering industrial research engagements, including a quarterly breakfast series that will initially focus on high-performance computing in the life sciences and challenges associated with moving massive data sets long distances for analysis using optimal resources.
"SDSC's Industry Partners Programme serves as a gateway for companies that would like to further develop or augment their expertise in specific parts of today's diverse high-tech economy", stated Ron Hawkins, SDSC's Director of Industry Relations. "IPP offers multiple levels of engagement opportunities through its Technology Forum, Supporter/Partner level research collaborations, SDSC's Advanced Technology Lab, training, and other activities."
IPP's Technology Forum is an annual fee-based programme that offers member companies access to SDSC researchers through roundtable conversations and other activities covering the latest technologies and research in high-performance computing, data science, and related areas. Joining IPP through the Technology Forum is an ideal way for both startup and established companies to stay abreast of new developments and opportunities. Members and prospective members are invited to attend.
Details of the first two breakfast roundtables are as follows:
1. High-Performance Computing and Storage Trends in Life Sciences
May 24, 8:30 - 10:30 a.m.
San Diego Supercomputer Center, EB-143, 10100 Hopkins Drive, La Jolla, CA 92093
You can join SDSC Director of Scientific Computing Applications, Robert Sinkovits, for an overview and discussion of key trends and challenges for high-performance computing and storage in life sciences research. Robert Sinkovits brings a broad perspective and hands-on experience through his involvement in collaborations spanning immunology, rational design of vaccines as part of the Human Vaccines Project, computational chemistry and other data intensive life science projects.
2. Distributed, National-Scale Data Caching Platform for Big Data
June 14, 8:30 - 10:30 a.m.
San Diego Supercomputer Center, EB-143, 10100 Hopkins Drive, La Jolla, CA 92093
UC San Diego Professor of Physics and SDSC Distributed High Throughput Computing Lead, Frank Würthwein, will discuss a global data federation platform developed for the high energy physics community comprising about 150 petabytes of data worldwide. This state-of-the-art technology supports moving very large data sets in proximity to high-performance computing resources around the world to provide for data analysis using optimal resources. In an age where big data analytics and Cloud computing are being adopted across many industry segments, this technology and the lessons learned from its development can benefit companies faced with similar challenges.
"As part of SDSC's overall Industry Partners Programme, the Technology Forum provides companies with an easily accessible 'on-ramp' to working with SDSC while allowing companies to participate in a productive, small group format", stated Ron Hawkins, noting that future quarterly roundtable breakfasts will include topics such as AI, computer systems performance evaluation, and a range of data-enabled applications and platforms. An annual research review and Tech Expo provide a broader overview of research activities, while providing a student recruiting opportunity.
Beyond the Technology Forum, companies may partner with SDSC singly or in concert to support research projects structured on timespans of one year (Supporter level) to three years (Partner level). Companies may also make arrangements to access SDSC's unique supercomputing and high-performance storage systems by entering into a service agreement.
"SDSC has a 30+ year track record of being at the forefront of high-performance computing, and as an Organized Research Unit of UC San Diego recognized early on the growing trend toward 'Big Data' applications and analysis", stated Susan Rathbun, Project Manager for SDSC Industry Relations. "Taken together, this has given SDSC a comprehensive roster of experts in computational science and Big Data applications and analysis."
Companies that have collaborated with SDSC recently include genomics start-ups Arima Genomics and Human Longevity, Dell-EMC, interconnect fabric startup GigaIO, computing start-up Memcomputing, and scalable storage technology company Weka.io.
"SDSC experts have collaborated with a number of early-stage technology companies to benchmark and evaluate their technologies in a practical setting, providing valuable feedback to those companies as they tailor their technology for the marketplace", added Ron Hawkins.
Full details of both events and more are available online .