OCF to deliver new 600 Teraflop HPC machine for University of Bristol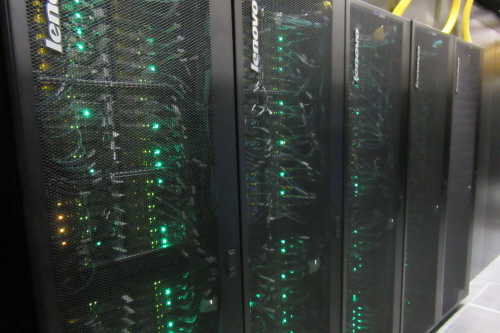 BlueCrystal 4
24 May 2017 Bristol -
For over a decade the University of Bristol has been contributing to world-leading and life changing scientific research using High Performance Computing (HPC), having invested over GBP 16 million in HPC and research data storage. To continue meeting the needs of its researchers working with complex and large amounts of data, they will now benefit from a new HPC machine, named BlueCrystal 4 (BC4). Designed, integrated and configured by the HPC, storage and data analytics integrator OCF, BC4 has more than 15,000 cores making it the largest UK University system by core count and a theoretical peak performance of 600 Teraflops.
Over 1,000 researchers in areas such as paleobiology, earth science, biochemistry, mathematics, physics, molecular modelling, life sciences, and aerospace engineering will be taking advantage of the new system. BC4 is already aiding research into new medicines and drug absorption by the human body.
"We have researchers looking at whole-planet modelling with the aim of trying to understand the earth's climate, climate change and how that's going to evolve, as well as others looking at rotary blade design for helicopters, the mutation of genes, the spread of disease and where diseases come from", stated Dr. Christopher Woods, EPSRC Research Software Engineer Fellow, University of Bristol. "Early benchmarking is showing that the new system is three times faster than our previous cluster - research that used to take a month now takes a week, and what took a week now only takes a few hours. That's a massive improvement that'll be a great benefit to research at the University."
BC4 uses Lenovo NeXtScale compute nodes, each comprising of two 14 core 2.4 GHz Intel Broadwell CPUs with 128 GiB of RAM. It also includes 32 nodes of two NVIDIA Pascal P100 GPUs plus one GPU login node, designed into the rack by Lenovo's engineering team to meet the specific requirements of the University.
Connecting the cluster are several high-speed networks, the fastest of which is a two-level Intel Omni-Path Architecture network running at 100Gb/s. BC4's storage is composed of one PetaByte of disk provided by DDN's GS7k and IME systems running the parallel file system Spectrum Scale from IBM.
Effective benchmarking and optimisation, using the benchmarking capabilities of Lenovo's HPC research centre in Stuttgart, the first of its kind, has ensured that BC4 is highly efficient in terms of physical footprint, while fully utilising the 30KW per rack energy limit. Lenovo's commitment to third party integration has allowed the University to avoid vendor lock-in while permitting new hardware to be added easily between refresh cycles.
Dr. Christopher Woods continued: "To help with the interactive use of the cluster, BC4 has a visualisation node equipped with NVIDIA Grid vGPUs so it helps our scientists to visualise the work they're doing, so researchers can use the system even if they've not used an HPC machine before."
Housed at VIRTUS' LONDON4, the UK's first shared data centre for research and education in Slough, BC4 is the first of the University's supercomputers to be held at an independent facility. The system is directly connected to the Bristol campus via JISC's high speed Janet network. Kelly Scott, account director, education at VIRTUS Data Centres stated: "LONDON4 is specifically designed to have the capacity to host ultra high density infrastructure and high performance computing platforms, so an ideal environment for systems like BC4. The University of Bristol is the 22nd organisation to join the JISC Shared Data Centre in our facility, which enables institutions to collaborate and share infrastructure resources to drive real innovation that advances meaningful research."
Currently numbering in the hundreds, applications running on the University's previous cluster will be replicated onto the new system, which will allow researchers to create more applications and better scaling software. Applications are able to be moved directly onto BC4 without the need for re-engineering.
The Blue Crystal supercomputer facility played a pivotal part in an 1.8 million euro study into Ebola, looking at the speed of virus evolution, and the corresponding effect on vaccines, diagnostics and treatment.
Dr. David Matthews, Senior Lecturer in Virology at the University of Bristol, who led the Bristol component of the study, explained: "The capabilities of Blue Crystal were invaluable to our research. We used it to analyse raw data on the Ebola virus in 179 patient blood samples to determine the precise genetic make-up of the virus in each case. This allowed the team to examine how the virus evolved over the previous year, informing public health policy in key areas such as diagnostic testing, vaccine deployment and experimental treatment options."
This complex data analysis process took around 560 days of supercomputer processing time, generating nine thousand billion letters of genetic data before reaching the virus's 18,000 letters long genetic sequence for all 179 blood samples.
Dr. Matthews will use BC4 to help with his latest research into Dengue fever and Zika virus.
"We're now in our tenth year of using HPC in our facility. We've endeavoured to make each phase of BlueCrystal bigger and better than the last, embracing new technology for the benefit of our users and researchers", commented Caroline Gardiner, Academic Research Facilitator at the University of Bristol.
Simon Burbidge, Director of Advanced Computing commented: "It is with great excitement that I take on the role of Director of Advanced Computing at this time, and I look forward to enabling the University's ambitious research programmes through the provision of the latest computational techniques and simulations."
The new system is ranked 301 in the world, according to the Top500 list which analyses the world's 500 fastest supercomputers. Launched at an event on 24th May at the University of Bristol, BC4 will house over 1,000 system users, carried over from BlueCrystal Phase 3.