European Commission announces European Cloud Initiative, including exascale supercomputing - and three other initiatives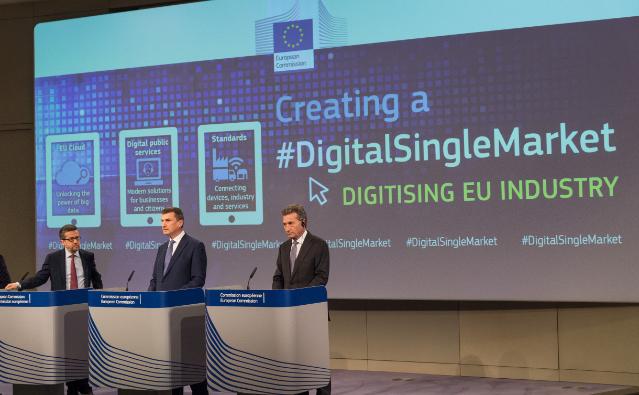 25 Apr 2016 Brussels -
On April 19, the European Commission announced four initiatives: 1. Digitising European industry: Reaping the full benefits of a digital single market; 2. A European Cloud Initiative; 3. Priorities for ICT standards; and 4. e-Government action plan.
The Commission will:
help coordinate national and regional initiatives on digitising industry by maintaining a continuous EU-wide dialogue with all actors involved. A governance framework will be set up with Member States and industry.
focus investments in EU's public-private partnerships and strongly encourage the use of the opportunities offered by the EU Investment Plan and European Structural and Investment Funds.
invest 500 million euro in a pan-EU network of digital innovation hubs (Centres of Excellence in technology) where businesses can obtain advice and test digital innovations.
set up large-scale pilot projects to strengthen internet of things, advanced manufacturing and technologies in smart cities and homes, connected cars or mobile health services.
adopt future-proof legislation that will support the free flow of data and clarify ownership of data generated by sensors and smart devices. The Commission will also review rules on safety and liability of autonomous systems.
present an EU skills agenda that will help give people the skills needed for jobs in the digital age.
The European Cloud Initiative also forms part of this package and will help Europe lead in the data-driven economy.
Overall, the plans should mobilise over 50 billion euro of public and private investments in support of the digitisation of industry.
The way that the European Commission uses the word Cloud is a bit, actually more than a bit, confusing. This is how it fits together: The European Cloud Initiative in itself has two parts: The European Open Science and the new European Data Infrastructure (EDI) aims to deploy the supercomputing capacity, fast connectivity and high-capacity Cloud solutions required by the European Open Science Cloud. Quantum Computing is also part of the European Cloud Initiative.
We have two articles wherePrimeur Magazinedives a bit deeper into the HPC/supercomputing aspects and the Quantum computing plans of the European Commission:
European Commission wants prototype exascale supercomputer systems based on European hardware technology by 2018
http://primeurmagazine.com/weekly/AE-PR-05-16-76.html
European Commission to tackle the second quantum revolution with 1 billion euro flagship
http://primeurmagazine.com/weekly/AE-PR-05-16-77.html
Related articles:
We need 500.000 respected data stewards to operate the European Open Science Cloud
http://primeurmagazine.com/weekly/AE-PR-05-16-58.html
IPCEI project on high performance computing and Big Data enabled applications to serve as a pilot for the European Data Infrastructure
http://primeurmagazine.com/weekly/AE-PR-05-16-46.html
The European Open Science Cloud in upcoming Horizon 2020 calls under the European Research Infrastructures
http://primeurmagazine.com/weekly/AE-PR-05-16-14.html