European Commission to tackle the second quantum revolution with 1 billion euro flagship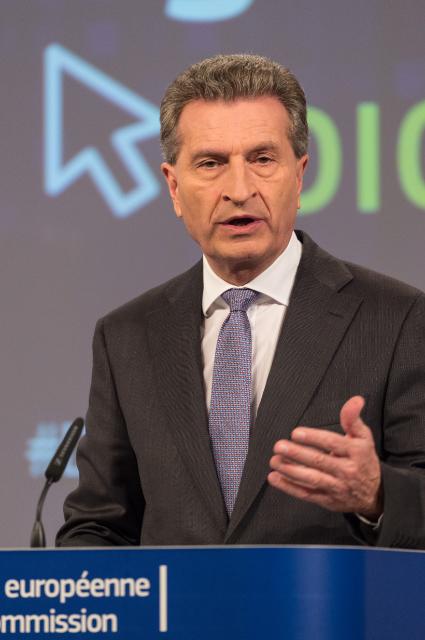 22 Apr 2016 Brussels -
In the slipstream of the Communication about the European Cloud Initiative released on April 19, 2016, the European Commission also deployed its plans to embark on the path of quantum technology because quantum computing is the logical big step beyond anything currently envisaged at the high-end of computing technology, including exascale high-performance computing, according to the European Commission. The European Commission will start the preparatory steps for an ambitious, long-term and large-scale quantum technologies flagship initiative, including consultation of stakeholders, impact assessment, taking into account results of the interim evaluation of the Horizon 2020 Programme by the end of 2017, with the aim to launch the ramp up phase in 2018. In total, the European Commission will invest an estimated 4.7 billion euro in the European Cloud Initiative of which 1 billion euro will be dedicated to the quantum technologies flagship.
A "Quantum Manifesto" has been recently published with the support of academic and industrial stakeholders that calls for a common strategy for Europe to stay at the front of the second quantum revolution. The aim is to converge to a broadly supported roadmap that will bootstrap a future world-class quantum industry in Europe and to gather the necessary commitments for an ambitious initiative to unlock the full potential of quantum technologies, accelerate their development and bring commercial products to public and private markets.
With regard to quantum technologies, the European Commission distinguishes between three different domains: quantum sensing, metrology and imaging systems; quantum communication; and quantum computation and simulation. The Commission puts a vivid interest in funding all of these different aspects of quantum technology given the fact that their development and exploitation will advance at different speeds and addresses different problems and markets.
Quantum sensors use quantum effects to precisely measure physical parameters, such as acceleration, electromagnetic fields and gravity. Metrology systems use quantum effects to
enable local, verifiable, reliable and robust calibration and measurement of standard units of measurement such as time and frequency. Quantum imaging uses quantum effects for pushing performance and sensitivity beyond the limits of classical imaging techniques. Quantum communication systems use quantum principles to securely transmit classical data, or to transmit quantum data. Quantum computing architectures store and process data as quantum states or qubits. They allow radically faster solutions of major classes of computing problems that defy even the most powerful classical computers today. Moreover, the physical process of quantum computing holds the promise of increased energy efficiency. Quantum simulators are quantum systems that directly reproduce the quantum physics of chemical reactions or materials that are too complex to simulate otherwise.
European Union funding in quantum technologies is not new. The Commission already has a history of almost 20 years in funding quantum technology initiatives through its layered funding programmes including Future and Emerging Technologies (FET) for the collaborative effort, the European Research Council (ERC) for the support to individual researchers and the Marie Sklodowska-Curie Actions (MSCA) for researcher mobility and training. The Commission aims to use this well-established funding structure as efficient as possible to put Europe on the map for the emerging second quantum revolution. The European quantum research community is already very well organised and has put much effort into structuring its work around a common research roadmap. Therefore the specific potential of different funding instruments should be maximally exploited through a coordinated use of ERC, FET and MSCA funding.
In addition, the coordination between different national and European research programmes on quantum technologies can be improved in order to create a coherent and easy-to-navigate funding landscape for quantum technologies. In this regard, the planned ERANET Cofund on Quantum Technologies (Horizon 2020, FET workprogamme 2016-2017) will allow to better understand the different programmes at national levels, to avoid duplication, exploit synergies, and to better align joint calls with national or shared priorities.
However, it is not sufficient to fund quantum technology initiatives as such. The challenge is to bring the quantum technology solutions to market, thus transforming quantum science into quantum engineering, as the Commission puts it. This involves specific technical training programmes as well as non-technical programmes to identify and clarify the markets for quantum technology. This could be done through a systematic survey of, and continuous scouting for the anticipated applications of novel quantum technologies and by assessing benefits and risks arising from the new qualities associated with these anticipated applications.
The Commission has ideas about linking up procurement by public organisations including the European Space Agency, the European Research Infrastructure, defence and other government departments, and international organisations to act as early adopters which may purchase and start to use the new technology. Quantum computing, communication, sensing and imaging resources can thus quickly find a relevant and critical user base that, in turn, can drive the technology forward by co-design with stakeholders. At European level, instruments such as pre-commercial procurement, public procurement of innovation and projects funding from the European Fund for Strategic Investment (EFSI) could serve this purpose, according to the Commission.
Another issue is the importance of patents. Although Europe is ahead in publications related to quantum technologies, according to the Commission, it is lagging behind its major global competitors in the area of patents. In order to address this problem, the Commission expresses the request that funding that is being earmarked for quantum technologies comes with a clear and formal obligation to take account of the existing IP landscape, and to protect and pool intellectual properties for the benefit of European industry and society.
If the Commission strives to reach a global European industrial leadership in quantum technologies, an ambitious coordinated strategy to support joint science, engineering and application work, including Intellectual Property Rights (IPR), standardisation, market development, training and public procurement will be needed.