Fujitsu in plans for RIKEN AIP-FUJITSU Collaboration Center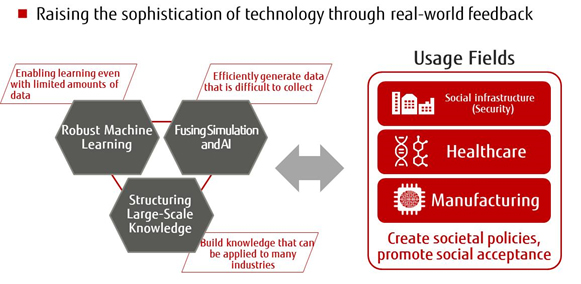 Research agenda for the RIKEN AIP-FUJITSU Collaboration Center
10 Mar 2017 Tokyo -
Together with RIKEN Fujitsu would establish a coordination centre within the RIKEN Center for Advanced Intelligence Project (AIP). This Collaboration Center, scheduled to open April 1, will combine RIKEN AIP's knowledge of cutting-edge technology in the artificial intelligence (AI) field with Fujitsu's experience developing AI-related technologies based on its customer platforms. The aim is to create social innovation by methodically conducting research into everything from developing base technologies to their deployment in society, in order to respond to important social issues.
Since its founding on April 14, 2016, RIKEN AIP has provided a research structure for developing innovative next-generation base AI technologies. As part of that effort, it has been examining collaboration with industry to accelerate practical implementation of the results of its R&D efforts. Now three companies, including Fujitsu, have each agreed to establish a collaboration centre, after extensive discussions with RIKEN to institute concrete research projects and execution plans.
In establishing the RIKEN AIP-FUJITSU Collaboration Center, Fujitsu will be a part of joint research conducted on the topic of creating "AI technology that predicts the unpredictable" to support better decision-making for people based on accurate future predictions, even in the face of environmental uncertainties. Multiple Fujitsu researchers and RIKEN AIP Project Investigators (PI; the heads of research projects) doing research related to this topic came together to conduct R&D on Human Centric AI that has the ability to predict possible future social changes, taking into consideration a variety of social and economic factors, and to create policies accurately reflecting human intentions in the face of any sort of changes, in order to resolve ever more complicated social and economic issues.
Here is an overview of the Collaboration Center:
1. Organisation name: RIKEN AIP-FUJITSU Collaboration Center
2. Location: Within the RIKEN Center for Advanced Intelligence Project
3. Establishment period: April 1, 2017, through March 31, 2022
4. Research projects: The centre will further joint research across two phases, with phase one extending for three years after the establishment of this centre, while phase two consists of its fourth and fifth years. In the first phase, the centre will move forward on the following three projects:
i. Robust Machine Learning: Accurate predictions of the future in any environment
The centre will conduct R&D for robust machine learning to respond flexibly to environmental changes and properly predict the future. Existing machine learning has a fundamental issue in that, without massive volumes of high quality, complete data, it cannot provide sufficient predictive capability. In order to overcome this issue, the centre will develop innovative core machine learning technology capable of making accurate predictions of the future, even with limited amounts of data or incomplete data.
In addition, the fact that it's not possible to clearly show the cause and effect relationship that leads to AI's prediction results in machine learning has been a significant barrier to promoting implementation in society. In response to this sort of issue, the project will be working to develop new principles and technology in causal estimation and inference, aiming to improve the explanatory ability of prediction results. Specifically, the centre will be carrying out trials of technology using a variety of on-site data from the manufacturing and security fields.
ii. Fusing Simulation and AI: Creating an unknown environment
Using development experience from the world's top-class supercomputers, particularly the K computer, as well as supercomputer applications, the centre will work on R&D for an AI that provides more accurate predictions of the future by creating simulation models for unknown environments and environments where data is difficult to collect, and then using the data from those simulations to teach the AI.
In addition, the centre will use AI to improve the validity and reliability of simulation models, to achieve high-speed estimation and automatic analysis of simulation results, as well as highly accurate results estimation when running a simulation based on insufficient data.
In terms of specific applicable fields, the centre aims to develop simulators enhanced with AI for the manufacturing and health care fields, among others.
iii. Structuring Large-Scale Knowledge: Formulating better policies
The centre will work on R&D for structuring large-scale knowledge in order to enable effective formulation of policy for complex social and economic issues using AI.
The centre will develop base technology to extract structured knowledge that can be used by AI from massive amounts of information that has not been structured for use by AI. Moreover, in order to create interdisciplinary and inter-industry open innovation and resolve complex issues, the centre will develop core technology that enables the fusion and migration (application to other fields) of knowledge based in different industry fields and academic fields.
Specifically, the centre aims to apply this technology to such industries as the chemical, pharmaceutical, and food processing industries, as well as to improve white-collar productivity and transform the ways people work.
In the second phase, the centre will work on R&D for base technologies that integrate the results of these three research projects, aiming to create "AI that predicts the unpredictable".