Fujitsu launches A5 for Windows Azure public Cloud service based on strengthened alliance with Microsoft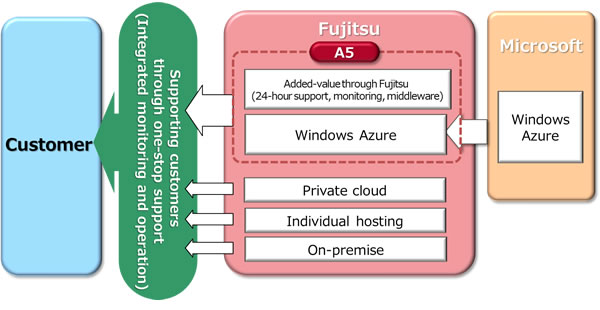 25 Feb 2014 Tokyo -
Fujitsu has made available Fujitsu Cloud PaaS A5 for Windows Azure, an upgrade to its public Cloud based on Windows Azure, as part of a new alliance with Microsoft Corporation. The public Cloud based on Windows Azure that Fujitsu has provided from its data centres since August 2011 will be renamed as A5 for Windows Azure, with the service environment shifted to the data centres that Microsoft has established in Japan.
This move will allow Fujitsu to make the latest features in Windows Azure available from Microsoft's data centres in Japan, and charge the same price as Microsoft charges for Windows Azure. As before, Fujitsu will continue to provide 24 value-added services, including 24/7 Japanese-language support, Windows Azure-compatible software, application services that run on A5 for Windows Azure, data back-up and operation-monitoring services.
Fujitsu has positioned A5 for Windows Azure as a public Cloud service in its Fujitsu Cloud Initiative, which systematizes the products and services it offers for the Cloud. It will also offer one-stop shopping for the building of hybrid Clouds, which are increasingly in demand.
In preparation for enhancing its hybrid Cloud services, on November 20, 2013 Fujitsu announced a line-up of products and services for its private Cloud - hosted and on-premises - domain. Today, Fujitsu begins offering the public Cloud domain A5 for Windows Azure:
1. Provision of high-quality value-added services from Fujitsu
Along with the 24/7 Japanese language support that Fujitsu offers, customers can take advantage of a total of 24 value-added services, including software and operations monitoring services that help to keep A5 for Windows Azure running smoothly and securely.
2. Reliable support for Cloud transitioning and global use of Windows Azure services
With Fujitsu Cloud Integration Service, customers have access to an unbroken chain of support, from planning and construction to operation, including network environment design for use with Cloud environments, connecting existing IT systems, and security measures. This is demonstrated by the thorough service that extends from rapid system construction to operations management after the system has gone on-line, and includes use of the same services from Microsoft in Western and Eastern Japan and in 10 other regions worldwide, as well as when shifting customers' application assets to the Cloud.
With this upgrade and owing to its newly strengthened alliance with Microsoft, Fujitsu can directly enter into Windows Azure service agreements with its customers, and can also provide fully metered services to all customers.
As a result, Fujitsu can offer one-stop shopping for customers, building hybrid Cloud environments that combine A5 for Windows Azure with private hosted or on-premises infrastructure-type Cloud services.
"Microsoft is delighted that Fujitsu has started offering its A5 for Windows Azure public Cloud service. Microsoft and Fujitsu began collaborating on Cloud-related projects in 2009, and, as Microsoft realigns itself as a device and services company, Fujitsu, with its strong integration capabilities, its application development expertise, and its many solutions, is an important global collaborator. In the future, I look forward to Microsoft and Fujitsu collaborating not only in the Cloud sector but across a wide range of sectors, including Big Data and mobile devices, bringing together the two companies' technologies to give customers new ways of using information technology", stated Yasuyuki Higuchi, President and CEO, Microsoft Japan Co., Ltd.