Houston Methodist Licenses Its Computer Augmented Virtual Environment To Facts And Figures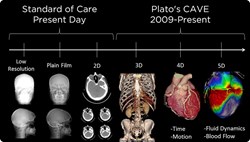 16 Jan 2014 Houston -
Houston Methodist has licensed its high definition digital imaging technology to Facts and Figures LLC, Houston, Texas. The platform allows physicians to interact with patients' radiographic images in 3D, 4D, 5D and 6D dimensions. The platform referred to as Plato's CAVE - Computer Augmented Virtual Environment - is currently in use at Houston Methodist under the development and professional guidance of Dr. E. Brian Butler, Chairman, Professor and Medical Director for the Department of Radiation Oncology. In addition, Dr. Butler is a Senior Member of Houston Methodist Research Institute and serves as clinical professor for the Weill Medical School of Cornell University in New York City.
The platform creates patient-specific interactive N-dimensional anatomical features allowing physicians to virtually "fly" through the skin, muscle, bones and organs. It uses state-of-the-art interface technologies, such as voice recognition, motion sensors, multi-touch tables, stereoscopic visualization, as well as game controllers.
Dr. Butler explained this FDA approved platform is a more accurate, interactive understanding of the medical situation developed by surgeons for surgeons. It creates a colored 3D volumetric rendering of the patient using a combination of existing imaging data from Computed Tomography (CT), Magnetic Resonance Imaging (MRI) Positron Emission Tests (PET) thus significantly aiding in the clinical data sets available to assist in achieving a diagnosis, surgical plan or education.
In making the announcement, John Hoff, Chief Executive Officer of Facts and Figures, stated: "The evolution of this platform allows health care to become seamlessly portable i.e., a tablet device, iPhone, etc., personalized, and easily accessible. Critical to this technology is that all the data is being used to create the personalized images with the highest fidelity. It is our goal to be the 'personalized National Geographic' for the patient with the same level of image quality."
Dr. Butler noted that he believes this technology will be not only be utilized for medical decision making, but also for education, as well as integration with other technologies like 3D printing, robotic devices, etc. right in the operating room. "The technology represents the next generation in 3D, 4D, 5D and even 6D functional environments without additional radiation exposure to the patient. The large amount of data utilized in the platform is supported by a ultra-high speed infrastructure which expands the quality and speed of connectivity and will readily handle the genomic/proteomics information anticipated in the near future of medicine."
He further noted: "This platform integrates multiple silos of knowledge, from software and computer engineers, robotics, anatomists, game developers and 3D rendering specialists. The key to its success has been the integration and cross talking between those silos thus making medicine more personal. More personal when the doctor interacts with the patient, more personal when doctor is viewing and interacting with the patient's image prior to surgery, and then when the physician uses these same images in the operating room. Residents are currently creating educational modules using this technology, while surgical staffs are using this platform to perform pre-surgical planning."
Dr. Butler is an internationally renowned physician, researcher, and medical administrator recognized for his cutting edge advancements in medicine. He was the first in the world to implement a modern technology called "Intensity Modulated Radiation Therapy" and the first in the world to introduce a large clinical trial with radiation and gene therapy. Dr. Butler has over 100 articles published in peer reviewed Journals, has written numerous medical book chapters and won the Houston Business Journal's Innovation of the Year Award in 2010.
Dr. Butler concluded that in its mission and desire to advance cutting-edge medical research throughout the world, Houston Methodist selected Facts & Figures LLC to develop, implement and commercialize the Plato's CAVE transformative technology on a global basis. As a result, on August 14, 2013, Facts & Figures LLC was legally awarded the exclusive, worldwide, twenty-year license for the PLATO's CAVE technology and registered trademarks from Houston Methodist.