400 core PicoCluster demonstrated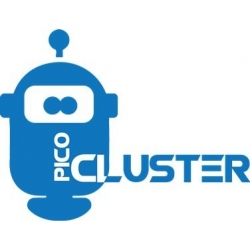 16 Dec 2015 Las Vegas -
PicoCluster LLC will demo the Raspberry PI 2 cluster, or Pico, January 6-9, 2016 at the Sands, booth 70974, at the International Consumer Electronics Show in Las Vegas, Nevada.
Pico is a never-before-seen supercomputer that will redefine education and Big Data. He signals a new space in Big Data hardware, as now there is a completely new educational platform for Big Data and computer programming.
Since Pico is made up of multiple physical computers coupled together via a network, a user can learn how to program and utilize clustered systems in a way that no other such device allows. As that happens, a user can even have a visual and tactile experience with the robot. Pico features an accessible network and activity lights.
PicoCluster LLC also looks forward to encouraging education in science, technology, engineering and math (STEM), benefiting the workforce in turn. PicoCluster LLC focuses on women and youth, as the $100 billion Big Data industry needs more programmers. Also, PicoCluster's software has resolved an issue of Raspberry PI clusters struggling beyond a certain configuration point the company claims.