World's top supercomputers deploy InfiniBand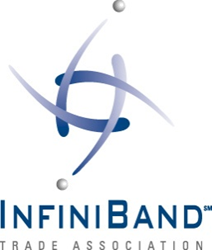 25 Jun 2014 Leipzig -
The InfiniBand Trade Association (IBTA), a global organisation dedicated to maintaining and furthering the InfiniBand specification, announced that InfiniBand is the most used interconnect by the world's fastest supercomputers. Increasing 8.3 percent year-over-year, InfiniBand now represents 44.4 percent of the TOP500 at 222 systems. InfiniBand also connects the top 17 most efficient systems and 50 percent of Petaflop-capable systems on the list.
Clustered computing, which requires high interconnect performance to deliver efficiency and scalability, continues to dominate supercomputer architecture on the TOP500 at 85 percent. Fourteen Data Rate (FDR) InfiniBand, delivering 56Gb/s per link to address the bandwidth demand by high performance clustered computing, drives the systems with the highest utilization on the TOP500, achieving a record breaking 99.8 percent system efficiency.
"Monday's TOP500 results are a further testament to high performance computing requiring an interconnect that not only delivers application performance but also system efficiency, and InfiniBand continues to meet these demands", stated Bill Lee, chair, IBTA Marketing Working Group (MWG). "However, emerging applications will push the performance bar even farther. The IBTA added Enhanced Data Rate (EDR) 100Gb/s InfiniBand to its specification last year in anticipation of these requirements, and we expect to see systems deploying EDR InfiniBand by the end of this year."
InfiniBand enables superior application performance by delivering high bandwidth with low latency and low processing overhead, and is ideal to carry multiple traffic types - clustering, communications, storage, management - over a single connection. In addition to high performance computing, InfiniBand enhances the productivity in Big Data, Cloud, data base, storage and Web 2.0 applications. As a mature and field-proven technology, InfiniBand is used in thousands of data centres, high-performance compute clusters and embedded environments that scale from two nodes up to clusters with thousands of nodes.