CoolIT Systems announces Bronze Sponsorship and key presence at ISC14 in Germany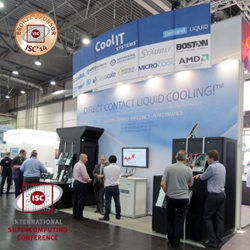 23 Jun 2014 Leipzig -
CoolIT Systems, a global expert in Direct Contact Liquid Cooling (DCLC) technologies for HPC, Cloud and enterprise markets, is a Bronze Sponsor at International Supercomputing Conference 2014 (ISC14) in Leipzig, Germany from June 23-25. This level of commitment to the event will allow CoolIT ample opportunity to showcase their liquid cooling expertise, experience and unique data centre solutions for HPC, Cloud and enterprise markets.
CoolIT is featuring the full spectrum of DCLC solutions which can be configured to meet a range of performance, density and efficiency requirements. On display will be the Liquid-to-Air AHx and the Liquid-to-Liquid CHx systems in 45U, 25U and 12U arrangements. The Rack DCLC product range supports ultra-high density data centre designs with blade and other multi-node chassis servers. These systems plus CoolIT experts will be available at ISC14 booth #411.
"This year's display really highlights the Rack DCLC configurations, and demonstrates the flexibility and scalability of CoolIT's solutions", stated Geoff Lyon, CEO/CTO of CoolIT Systems. "We are excited to share our innovation and technology with the ISC14 crowd and look forward to welcoming everyone at booth 411."