Details of the new Cray supercomputer at the New Zealand eScience Infrastructure NeSI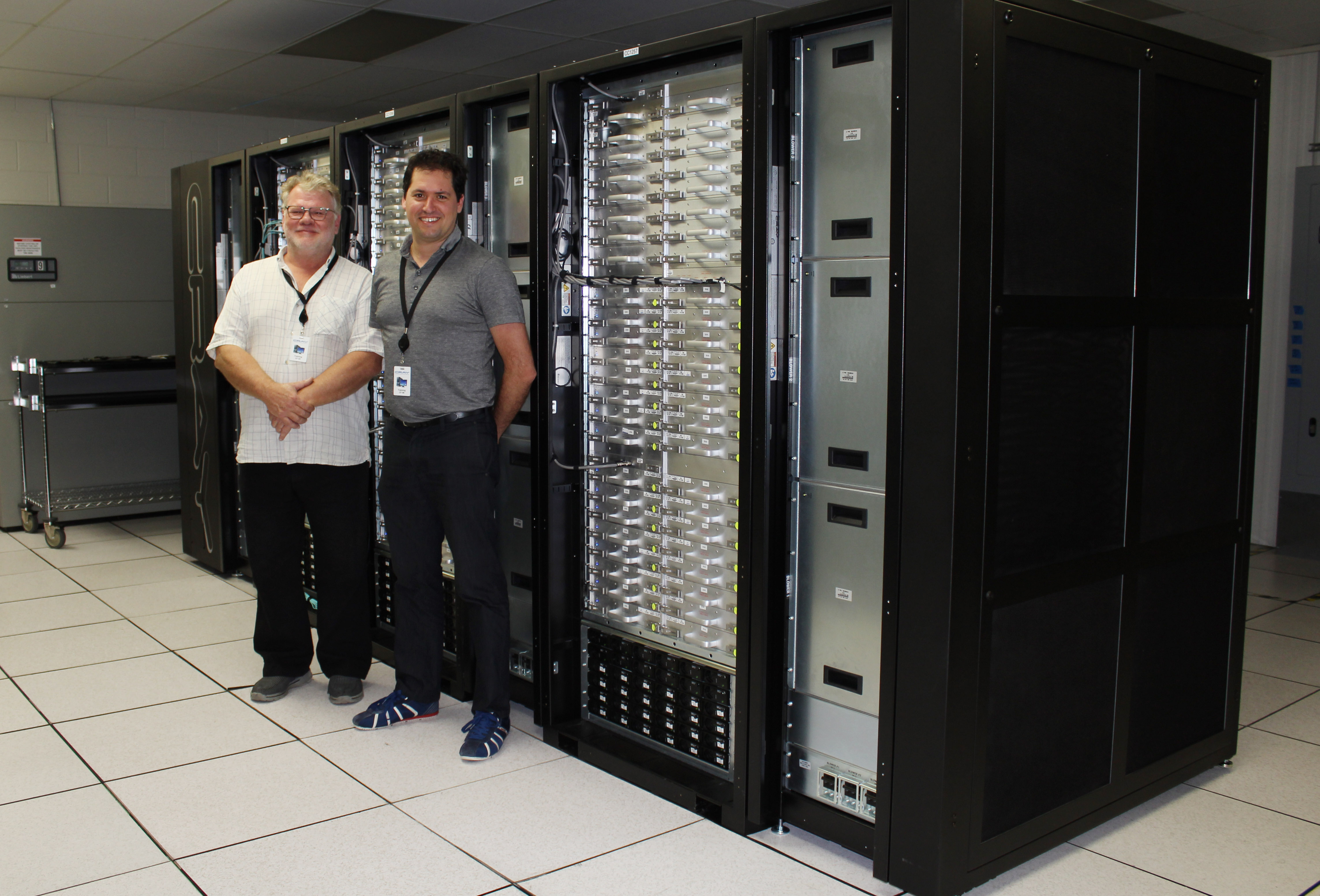 NeSI's Fabrice Cantos and Greg Hall at the Cray factory checking in on the XC50
18 Aug 2017 Auckland -
Teams of NeSI and Cray have finalized the the features and technical specifications of the the new HPC systems at the NeSI centre. The new systems, provide a step change in power to NeSI's existing services, including a Cray XC50 Supercomputer and a Cray CS400 cluster High Performance Computer, both sharing the same high performance and offline storage systems .
Features will include:
Single point of access to both the XC50 supercomputer and CS400 cluster HPC.
Faster processors so current work is done faster.
More processors so that more work gets done.
GPGPU nodes to support science codes and visualisation.
A huge memory node to support memory hungry applications.
Interconnect performance that on the XC50 will allow jobs to scale to 1000s of processors, and on the CS400 to run very large numbers of small jobs.
A user environment that will make it easier to manage work, develop and run research workloads/jobs, and apply data analytics tools.
Increased storage capacity and hierarchical storage management to minimise the need to move data between the HPC storage and a user's home institution, and underpin the new interactive data analysis services.
Vastly increased file system performance reducing the time spent reading and writing data to the filesystems.
More advanced feature sets which provide more opportunities to develop faster codes.
Beyond these core components, the new systems will deliver new capabilities in data analytics and artificial intelligence (AI), virtual laboratory services - provide interactive access to data on the HPC filesystems, remote visualisation, and support for high performance end-to-end data transfers between institutions and NeSI.