Walloon region will contribute at least 5 million euro to EuroHPC including to the Finnish led pre-exascale consortium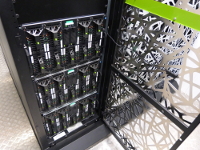 The ZENOBE supercomputer. (Picture Cenaero)
15 Mar 2019 Brussels -
The Vice Prime Minister of the Walloon region, Pierre-Yves Jeholet, in Belgium revealed that the region will contribute at least 5 million euro to EuroHPC. The total Belgian contribution is expected to be 15 million euro.
The ongoing computing revolution is transforming research and industry in many areas. HPC systems and supercomputers used in this area are much faster than ordinary computers.
These supercomputers are needed to process the increasing volumes of Big Data that advance society in many areas including industry, fundamental and applied research.
Currently, Belgium has two supercomputers: ZENOBE in the Walloon region and VSC in the Flemish region. However, these two supercomputers are not big enough to meet the largest challenges from for instance new smart technologies.
That is why Belgium has signed already in 2017 the EuroHPC Declaration and has become founding member of the EuroHPC Joint Undertaking.
As a reminder of the goal of EuroHPC: this joint undertaking aims at acquiring several HPC systems that will be amongst the most powerful supercomputers in the world, assuring access to these systems for the EuroHPC member countries, for their universities and companies. Belgium intends to participate in financing one of these supercomputers together with other European countries in a consortium led by Finland.
"Access to these supercomputers is essential to ensure the competitiveness of our industries and the excellence of the research and innovation sector. This will inevitably have a significant societal and economic impact, particularly in terms of job creation and added value. That is why I have proposed to the Walloon Government to support, at a level of at least 5 million euro, Belgian participation in this European consortium", stated Pierre-Yves Jeholet.
The 5 million euro will complement the 5 million already committed by the federal government of Belgium and the 5 million euro intended to be invested by the Flemish region. So the total commitment of Belgium to EuroHPC will be about 15 million euro.
Read also: